15 Day Thailand Island Hopper.   
Welcome to the Thailand Island Hopper, this trip is the OG, and we love it. If you like floating bungalows on crystal clear lakes, mountains, jungle, white sandy beaches, tropical islands, boats, and beach parties, then this is the trip for you! And if you don't like all of those things, then who even are you? 
Backpack through some of our favorite spots in Thailand and indeed in Asia. Khao Sok National Park, Koh Phangan, Bottle Beach, Koh Tao, Koh Phi Phi, and Phuket are on all good trips to Thailand and on this tour, you'll experience them all in real Gapseekers style- which means you'll have the best trip ever, and not break the bank
---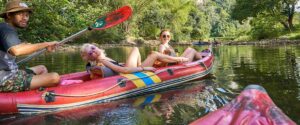 Fun things you have to do when travelling to Thailand.
Backpacking in Thailand is an incredible experience and trust us, you won't regret a minute! (Well, maybe for a minute or two when you wake up a little worse for wear after a legendary night partying!) As this is an epic guided travel trip, you'll have an expert with you the whole time to show you those hidden gems. But what do you put on the Thailand Bucket List?
Thailand's famous for its street food, so make sure you get a real Pad Thai when you're in Bangkok. The national beer in Thailand is Singha, you'll want to sample one or two of these! Other great beers include Leo, Chang, and Tiger. Want an epic challenge? Head to the Challenge Phangan course- it's basically Total Wipeout, Thai style! Haven't you always wanted to bounce on some big balls?
---
What makes the Thailand Island Hopper epic?
Why is this one of the best Thailand Tours around? Firstly, its amazing value for money– we don't compromise on quality but you definitely get an epic experience! Check out the inclusions [link] to see what we mean! We're there with you from arrival to departure, picking you up from the airport and waving you off like a proud mama! We also help you out throughout, so if anything goes wrong, we're there for you. Just like they say in Friends! You also get a ready-made group of friends and I promise that by the last day you'll be as tight with these guys as you ever are with your mates back home.
---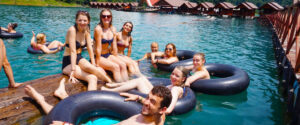 ---
Do you want more amazing facts and stories from other happy backpackers ? Check out our awesome blog here Feel free to watch our getting started video below and get in-touch with us if you have any questions. 
A little bit of what you get (

Download

the full trip notes for the full lowdown 
Bangkok river cruise and temples
Thai massage
Overnight train
Khao Sok National Park
Floating bungalows
Swimming, Kayaking, Cliff jumping
Boat trip & snorkelling around Koh Phangan
Bottle Beach bungalows
Muay Thai lesson
Koh Tao & Koh Nang Yuan day trip
Phi Phi Islands boat trip
Phuket Nightlife
Your gapseeker Booking dates right here! 
2021
Jan 5, 7, 10, 13, 17, 21, 23, 26, 29 
Feb 3, 5, 12, 15, 18, 23 
Mar 1, 4, 9, 14, 19, 21, 24, 28 
Apr 2, 6, 10, 14, 19, 24, 27, 30 
May 3, 9, 14, 20, 23, 27, 30 
Jun 2, 7, 10, 13, 17, 20, 23, 26, 29 
Jul 2, 6, 8, 11, 14, 19, 22, 25, 28, 31 
Aug 2, 5, 8, 13, 15, 19, 22, 29 
Sep 1, 5, 9, 12, 16, 23, 29 
Oct 4, 10, 15, 18, 22, 27, 30
Nov 2, 5, 8, 12, 16, 18, 21, 29 
Dec 2, 4, 7, 12

Please choose your dates and then head over to our booking calendar or request a call-back here! 
DAY 1
AIRPORT PICK UP
The trip starts as soon as you land in the crazy city of Bangkok. A city with as much history as it has traffic, more character than "characters", more ambience then ambulances… you get the picture. I think. You'll be met at the airport by our Travel Ninja (like a tour guide, only way more awesome) and taken to our gorgeous hotel right by Khao San Road where you can kick back, relax, and meet the rest of your new crew! The evening is the real start to the trip, and we have plenty of tricks up our sleeve to ensure it starts with a bang, in Bangkok. Tonight's the night we experience Bangkok's infamous nightlife- get to know your travel buddies over dinner and a bevvie or two (or three…). After dinner we hit the town, street bar style.
DAY 2
BANGKOK TEMPLES & RIVER CRUISE
After a lazy morning to catch some rays by the pool, some zzzzzzz's in bed, or some bargains at the market, we'll explore the city… from a different perspective… as we cruise through Bangkok's beating heart on a river boat trip. Our boat driver (pilot? Captain? Not sure) will drop us straight at our first temple, where we'll climb up to get a view of the city. After this, we head to one of Bangkok's many temples. Once we have done the culture and learning bit, we'll grab a Tuk Tuk and take a new kind of ride back to our hotel where you can chill. We'd tell you what we're gonna do in the evening, but what happens in Bangkok, stays in Bangkok. Hopefully.
DAY 3
MASSAGE & OVERNIGHT TRAIN
You've met the crew, been a culture-seeker and experienced the Bangkok party scene. Now it's time to head south and slow things down a bit! Feeling a little fragile? Us too. We have a treat for you in the form of a traditional Thai massage. A great way to relax after a big few days. We then travel overnight on the train down towards Khao Sok National Park.
DAY 4
KHAO SOK NATIONAL PARK
This is one of our favourite places, and we're pretty confident you're going to love it too! Jump aboard a long tail boat as we wind through the limestone cliffs of the gorgeous freshwater lakes at Khao Sok National Park, before mooring up at our floating bungalows for the night. Yeah, that's right, we said floating bungalows. Tonight we are staying at an actual floating resort on this amazing lake that looks like something from Jurassic Park. Told you we don't do average. This place is Insta-worthy without the filters! Explore the park on kayaks, go tubing with a beer and keep your eyes peeled for monkeys! After sundown, we are treated to a delicious Thai buffet dinner in the floating restaurant and bar. Doesn't get much better than this. Or does it?
DAY 5
BOTTLE BEACH EXPERIENCE
It's Island time, beach-seekers! After a dip in the lake, we'll have a chill morning at Khao Sok, before we make our way out to Koh Phangan. We stay at one of our favourite beaches in the world, Bottle Beach. It's a stunningly beautiful little beach that is only accessible by boat (or jungle road if you have a badass 4×4) so we pretty much get the place to ourselves!
It's almost impossible to describe how awesome this place is. So here is some of the shit that you can choose to do: laze on the beach, play volleyball, go for a swim or a kayak, hike to the viewpoint or frolic on the beach with one of the friendly resort dogs. In the evening we'll have dinner on the beach (obviously) followed by some cocktails and campfire with our own private fire show. Luckily the bar here stays open as long as we stay up so we can take it easy and enjoy a sleep next to the ocean or keep the private beach party rocking until the early hours. If Carlsberg did beach parties… we'd probably still do it better!
DAY 6
MORNING CHILL & MUAY THAI LESSON
Start your day to the sounds of waves lapping against the shore in your bungalow- who needs ASMR when you've got the real deal? We have a lovely lazy morning planned so as always there's no need to stress about a thing. Sleep in, enjoy the beach, trek through the jungle or up to that viewpoint, you do you. In the afternoon, we'll head to a local gym, where we get an intro lesson to Muay Thai (Thai Boxing), Thailand's national sport. Once the trainers have made swole future champs of us all and we have worked up a bit of a sweat, we'll have earned the evening's bevvie's!
DAY 7
KOH PHANGAN ISLAND BOAT TRIP
I'm on a boat mother-f*!%er, don't you ever forget! We spend the day on a big ol' pirate boat (rum included) cruising around the island, stopping off at some epic spots for a swim and snorkel. We'll include lunch, music and a free bucket (+ paid bar onboard)! Making your own novelty rap music video optional… We get back to land around sunset, just in time to refresh for dinner and drinks on our last night in Koh Phangan. The island is famous for its party scene so if the group's up for it on the last night in Koh Phangan, we can find something that suits, alternatively a quiet(er) night by the pool/beach bar can also be arranged.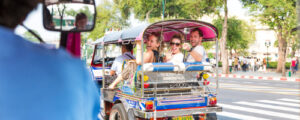 DAY 8
KOH TAO BOUND
Wave goodbye to the magical island of Koh Phangan, and say hello to its sexy little neighbour Koh Tao. We stay a couple minutes from the beach so spend the afternoon by the pool, exploring the town or on the beach. In the evening we will hit some of the bars and maybe even the infamous Koh Tao Pub Crawl if you and your fellow Gapseekers are feeling up for a party!
DAY 9
KOH NANG YUAN
Today we're dive-seekers! We get to experience what so many people rave about- the snorkelling and scuba diving in Koh Tao (It is what the island is famous for after all), plus we get to visit a gorgeous island called Koh NangYuan. Snorkelling gear, lunch and drinks are provided on the boat but if you would like to arrange a scuba diving session instead then speak to your Travel Ninja (Elite, bad-ass tour guide) and we will sort it out for you. You can also hike up to the viewpoint to get some insta envy-inducing snaps – you know your mates at home will love it!
DAY 10
GET ACTIVE OR RELAX
Sun-seekers- assemble! Our last day on this little paradise and luckily we got options. We'll head to the gorgeous Tanote Bay to soak up the sun in tropical surrounds. If you're more of a thrill-seeker, we can help you arrange one of Koh Tao's extreme activities. From rock climbing to scuba diving or water sports. In the evening we'll catch the night boat, to start our journey to Koh Phi Phi Don. Which is good s$*t. Trust me.
DAY 11
PHI PHI ISLANDS
Time to make your mates at home hate you. We're sorry, they're just jealous! After check in, you have some free time to do whatever the hell you like. We can trek up to the viewpoint for some incredible pics that would make Drake wish he had your insta account… Maybe. Or, why not wander around town, chill on the beach or get drunk at a beach bar. It's your holiday right! The evenings are always fun on Phi Phi, it has a lively nightlife with beach parties that often go on into the early hours. So what goes down is up to you and the fam. As we said earlier, what happens in Thailand, stays in Thailand (most of the time).
DAY 12
MAYA BAY "THE BEACH"
Who loves Leo? And we don't mean the Thai beer. Although we do love that too. We mean Leo De Caprio, and you can admit it, you love him, and you definitely pretended to do the Titanic scene at some point this trip! We're off to Maya Bay, the setting for Leo's film "The Beach" which was filmed here many moons ago. We'll also do some more snorkelling, visit some other cool spots like the Viking Cave and Monkey Beach (yes there are actually monkeys there) as well as lunch and watching the sunset from the boat.
DAY 13
PHUKET
Our next and final stop is Phuket, (pronounced Poo-ket, not Phuc…well you get it!) the biggest of all the Thai Islands. We'll do some shopping during the day and then in the evening, we'll pay a visit to the infamous Bangla Road, Phuket's answer to Khao San Road! It's our last night together, so it's your final chance for the holiday fling, or just a night you won't remember, but never forget with your new BFFs, for life, and probably longer, so you can be sure it's gonna be a really, really good night.
DAY 14
CHILLED CHECK OUT
Last day. Tears all round. Can't even type any more…If you must leave us after the trip to go home or somewhere else on your travels then we will, of course, help you with everything, just let us know where you gotta go and when. If the travel bug has well and truly bitten you, drop us an email and let us know where you want to go next!
Let us know if you want to come on our gapseeker podcast to tell us all about your incredible trip! Email us at podcast@gapseekers.com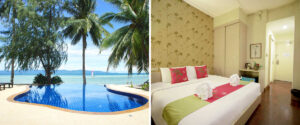 What's included in your 18 Day Thai Intro Tour?
Personal Airport Pickup and Transfer
Group Leader from the moment you step off the plane
All Accommodation
4 Additional Meals
River Canal Tour
Visit Ancient Temples
Thai Cooking Class
Party in Bangkok!
Khao Sok National Park
Floating Bungalows
Kayaking, Bamboo Rafting & Tubing
Island Boat Trip
Snorkelling and Waterfalls
Thai Massage
Beach Party!
Overnight Hill Tribe Trek
Jungle Zip-Lining
Bamboo River Rafting
Elephant Sanctuary Experience
Overnight Train
Mini Vans, Ferries, Taxis & Tuk Tuks
Ferry and Flight to Chiang Mai
24/7 Help and Support during and after your trip
Help with all your onward travel
Flights, all other meals, drinks and travel insurance (compulsory) are not included.

Essential information for gapseeker travellers 
This tour is recommended for 18-39 year olds.
What to Bring? We recommend you bring the following – Bathers/towel, Hat & (reef safe) sunscreen, Motion sickness tablets, Towel, Toiletries, Waterproof jacket, Insect repellent, Camera.
We recommend arriving into Bangkok on the start date as there are no included activities this day. If you do arrive early we'll still pick you up from the airport and will book you into our Bangkok guesthouse – Wild Orchid Villa from the day you arrive. Extra nights will be approx. £25 / $45AUD per night for a twin room and can be pre-paid with your travel agent or paid on arrival.
Your trip finishes in the northern capital of Chiang Mai. You can choose to stay on longer in Chiang Mai or if you need to get back to Bangkok the quickest option is to fly. Otherwise a cheaper option is either a train or bus.
Your Group Leader will help with any other local transport and ensure you're comfortable with all parts of your onward travel.
Visas – Most nationalities including the UK, Europe, Australia, NZ, Canada, USD, Scandinavia and Brazil will usually receive a 30-day visa exemption on arrival for free. If you would like a longer tourist visa or are not eligible for the visa exemption you can apply for a visa at your nearest Thai consulate prior to entering Thailand. If you're unsure of your visa requirements or need any help just contact us.
Please note: Travel Insurance for Thailand is compulsory to join the trip.